Meet Sonia, winner of the Support Worker of the Year award at Developing Australian Communities 2022, and proud member of team Avenue Parramatta.
Sonia is an absolute powerhouse — full of great ideas, always up for a challenge and relentlessly holds herself and others to high standards. We are extremely grateful to have her on our team!
Check out what she has to say about her role at Avenue.
What is your role at Avenue?
I started in Avenue in February 2020 as a full-time Senior Support Worker at Avenue Parramatta. In March 2021, I was promoted to Team Coordinator of our Order Fulfilment team with our business partner, Yevu.
Why did you want to work at Avenue?
Working with people with disability is close to my heart. I am originally from Colombia and one of my closest family relatives was born with a disability about 20 years ago. We had very little support to help him, there was no help from the government or any allied health professionals who could guide us in the process. He studied in a mainstream school where he was constantly bullied for being different. We did our best with the information we could gather from his doctor and the internet.
My family member was told that he could not go to study at a university. But with a lot of patience, love, support, and empowerment he managed to enrol in the best university in Colombia. So I know it is possible for people of all abilities to set goals and achieve them.
I chose to work at Avenue because it embodies empowerment and person-centred strategies and activities. Avenue believes that with the right support, everyone can fully participate in society and make their contribution.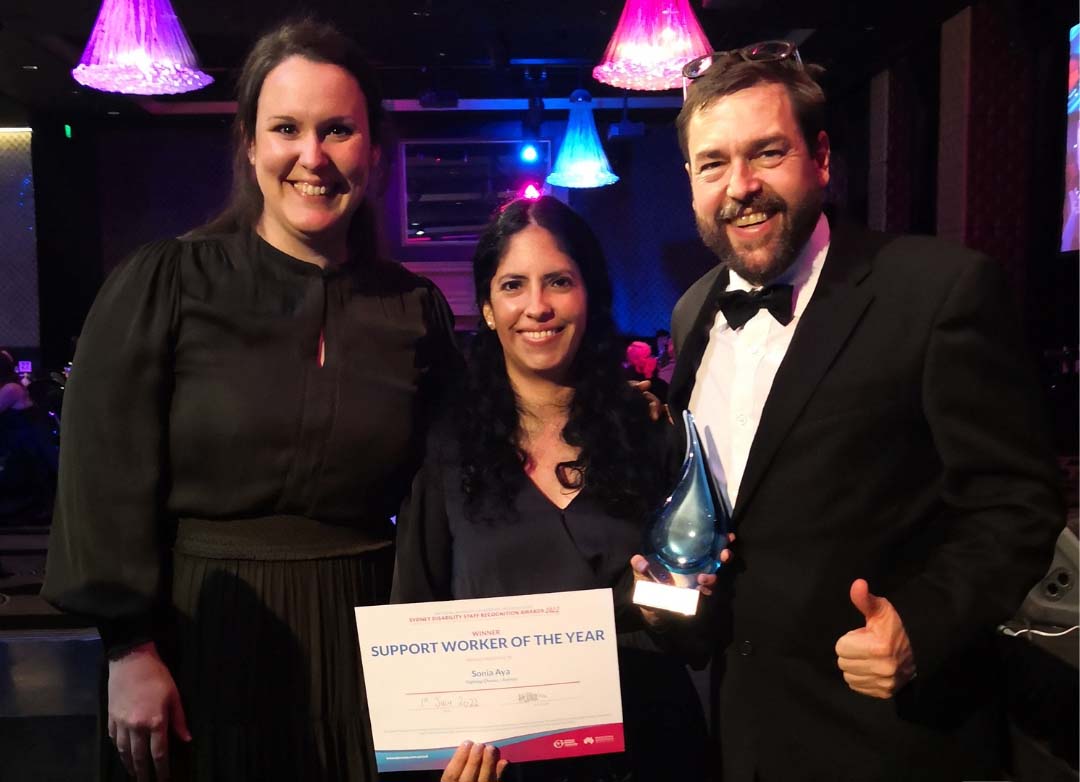 Laura, Sonia and Adrian at the Sydney Disability Staff Recognition Awards 2022
What are the day-to-day responsibilities of a Support Worker?
My main responsibilities include:
Providing person-centred and individualised support for our participants
Supporting participants with personal care and ensuring their needs are fulfilled
Creating daily boards of our team's activities so everyone knows what they are doing and who they are working with.
Ensuring all medication processes are followed according to our policies
Supervising my team and training new support workers
Regular communications with families and allied health professionals to implement behavioral and empowering strategies to ensure our participants achieve their goals.
Making sure records are up-to-date and journals are recorded properly.
The part I enjoy the most is seeing my team members achieve their goals, learn and develop new skills, and become the best versions of themselves.
Did you have experience as a Support Worker before Avenue?
I completed a Masters of Social Work in 2019, with a focus on disability, but I did not have experience as a support worker when I started in the role.
Avenue provides fantastic support and training to ensure you are confident in the skills you need to succeed in this role. As long as you are passionate, inclusive and creative, and bring a commitment to the Avenue values – then they will invest in your skills development!
What achievement are you most proud of from your time at Avenue?
I have grown a lot professionally since I started at Avenue, and I am definitely more empathetic and compassionate to people's needs.
One year after I started I was promoted to Team Coordinator. I have now been awarded the Support Worker of the Year award at Developing Australian Communities 2022. I am a very hard worker and passionate about what I do, and I am honored to have received recognition for my work.
If you are looking to make a difference, and make an extraordinary contribution to the lives of people with disability, check out what positions are currently open at Avenue.