Meet Nat and Rebecca from Avenue Botany. Both joined Avenue in August 2020, Nat as a participant in Avenue Work and Avenue Social, and Rebecca as a support worker. Since then, whilst taking on more responsibility and growing into new roles at Avenue, they have developed a strong relationship, working together on Avenue Social to create a vibrant, varied and engaging program.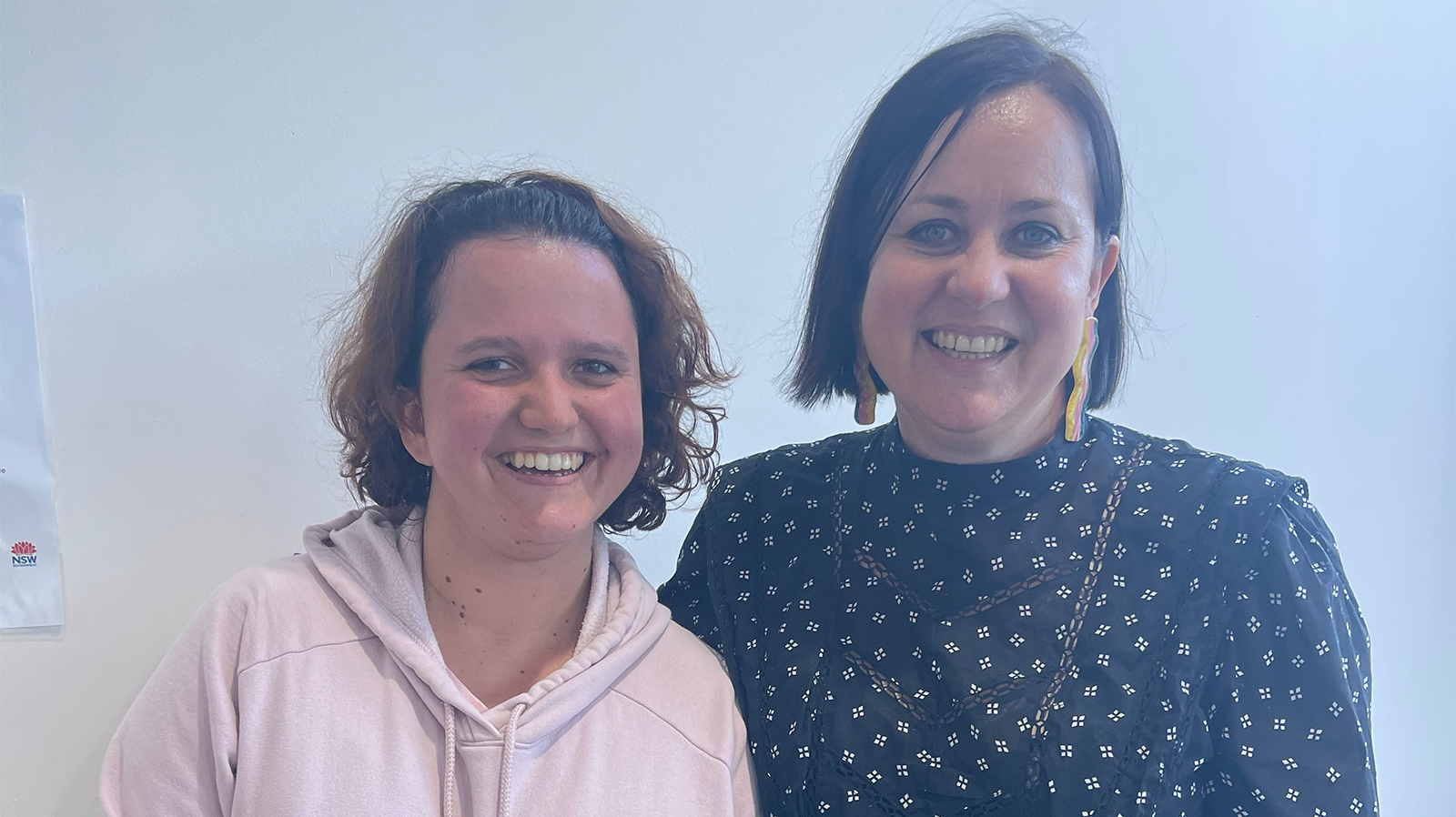 Starting from left Nat, participant at Avenue Botany and Rebecca, Social Coordinator at Avenue Botany
Nat joined Avenue 2 years after finishing school. "I joined teams such as Markets and Order Fulfilment first, and I really enjoyed them. It's lots of fun. I love working with the animals. I work in Gigs and Flyers as well – I absolutely enjoy that, especially when it's a nice warm day."
Rebecca studied aged care at TAFE and a diploma in community services. She was looking to get back into the workforce after a long time at home with her kids, including a son with disability. She had never planned to go into the disability sector as a career, but saw the opportunity at Avenue, and hasn't looked back.
"I didn't want to work in disability because I had it in my life. But then I just fell in love with everyone at Avenue. I guess you have a lot of preconceptions about what it might be like to work in disability and it was all different. I found that each day I was learning something new about the disability sector, and also bringing my own experience. I didn't actually realise how rewarding it would be."
After six months in a casual support worker role, Rebecca became the Social Coordinator at Avenue Botany – managing social outings six days a week. "I was given a massive opportunity, which is amazing. I get to use lots of my skills from my life and from past employment to create the social outings that I'm really passionate about. It was the people around me – the Avenue Botany management and other team coordinators – who encouraged me to go for the job. I probably wouldn't have, simply because I hadn't worked at Avenue for that long. But they said it was a great job for me. I was grateful and happy that people recognised how passionate I was, and how much the job meant to me – it was nice to be recognised."
One of Rebecca's favourite things about her role as Social Coordinator is the opportunity to build relationships with participants and their families. Nat is one of the participants at Avenue that Rebecca has built a strong relationship with since becoming Social Coordinator.
"It's a relationship that's grown over time. She's given me more and more input about the social program. I think we speak on the same level, like a colleague, and that's great. She comes up with really cool ideas because she's young and she's seeing the world as she should – as a young person. And all of her mates are at Avenue so she also knows what people like. She tells me if socials don't go right, so it's great to have her feedback."
Nat and Rebecca's working relationship started organically, but now they have formalised it into an "internship" one day a week, where they can keep a record of Nat's contribution and the skills she is developing. This will help her in her ultimate goal of securing a paid job. Nat's specific tasks include drawing up a monthly calendar, coming up with ideas and researching them, and phoning venues.
And when it comes to getting a job, Nat believes that working with Rebecca on the social program, as well as in other teams at Avenue, is useful skill-building experience. Nat is open to different kinds of jobs and is getting her first aid certificate to help with that. She has thought about babysitting, or working in a bar, or even becoming a casual support worker at Avenue. She already supports her fellow participants where she can.
"I really like working as a team, and helping people. If I finish my tasks, then I can actually go and ask people if they need help."
According to Rebecca, "Nat is definitely a leader here at Avenue amongst all the participants. It's more than just helping, I think Nat is a mentor to a lot of people and people look up to her."
"People do say, "one day you're going to run this place", Nat adds, laughing.
If you are looking to make a difference, and make an extraordinary contribution to the lives of people with disability, check out what positions are currently open at Avenue.