Our Avenue staff are some of the best in the business. They are talented, fresh minded and determined to make a difference. We sat down with Avenue Parramatta support worker Rachelle, to find out why she joined Avenue and what she is most proud of whilst working here.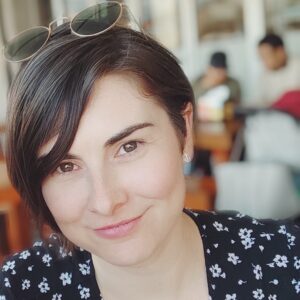 Tell us a bit about you
I'm Rachelle. I have been a support worker at Avenue Parramatta since November 2020. It's the most creative and fulfilling role I've ever had. I get to support people with disability in a work setting that requires creating person-centred solutions to individual needs. Each day is different at Avenue. You could find yourself supporting in our Order Fulfilment team, Animals team, or supporting a day out at Avenue Social.
Why did you join Avenue?
When I looked up Avenue it sounded like my dream job. It felt like an honour to have the chance to help others in an authentic and real way, to be part of a workplace that thrives on offering choice, and treats people with disability as individuals. I've been rewarded with amazing people to support and an amazing supportive team
environment.
What do you enjoy most at Avenue?
I enjoy spending time getting to know people. I love supporting people during a day out with Avenue Social and getting the chance to interact with our participants in the community. It's great to help establish rapport with our participants, as well as provide them with some time to build stronger social relationships with their peers.
What do you like to do outside of Avenue?
I'm an avid reader and nature enthusiast who loves spending time on bushwalks and coming home to a good video game. I love catching up with friends over a good pub meal and conversation.
What are you most proud of working at Avenue?
I am so proud of the progress our participants make and feel honoured to see it first-hand. Whether it's the person who found the courage to tackle a new task or join in and socialise with others, or seeing someone recognise their own achievements and self-worth in the workforce. Avenue doesn't change a participant's abilities, it just provides the space and support for them to accomplish the things they have always been capable of, and that is something I am proud of. 
If you are looking to make a difference, and make an extraordinary contribution to the lives of people with disability, check out what positions are currently open at Avenue.